Harrison Lance Crawford

Harrison.l.crawford@gmail.com
Harrison Crawford visualizes the abstract fantastical world of deities and divinities and solidifies them on the canvas for their audience. Visually they are well known for their juxtaposition of the saccharine and satanic, personifying the invisible forces that guide human nature. In the same way, they work with ideas, pulling possibilities from a place of fantasy and employing an almost magical ability to create space for those ideas to be discussed and made practical. Seeking to be more than just the renderings on the canvas, they are beginning to facilitate an environment that is culturally and imaginatively intoxicating.
With few positive examples of success in their own life; growing up between Disneyworld and the Salvador Dali Museum in Florida, these provided the clearest picture of how to make one's name and find a way out, and evidence of these influences can be seen in their art. They began drawing at the age of 4, with Disney characters they saw on their screen and their untold hours spent at the park. Seeing these fantasies made reality kindled a lifelong flame.
Real-life got in the way with careers taking time away from passion but art always incorporated itself into their life, whether it was sand mandalas with Buddhist monks (subduing your demons through the practice of a craft/art as medicine), or slowly working on passion paintings while pursuing their culinary career.
Eventually, with their career as a chef feeling less fulfilling, they came upon some artist communities in Baltimore, MD, and the surrounding areas. They saw people turning fantasy into reality and saw how it was possible to dedicate themself to their passion and they found and made a place for themselves there for around 6 years. This adventure brought them from Pre Schools to festivals, concert halls to grand assemblies, and eventually the West Coast at the end of 2018 until 2021 when they came to the Appalachian mountains.
Deeply dedicated to art, civically and technically, they sought tutorship from masters like Prof. Phillip Robinson and Mantra Cora, specializing in the Mische technique, as well as great artist citizens like those of the Riff Raff Collective. Helping to create a new world with all they were capable of in Princeton, West Virginia,  they hope to continue to grow both exponentially and magnificently with new mediums, moments, and artners.
THE HILL: PRESCHOOL
- thehillpreschool.org - Specialized Art Instructor
-Process based workshops and interactive projects for the students and faculty.
Ex: "Forming Our Fears"- we worked together to explore the fear that can be found in the unclear or unknown parts of the imagination. We exercised how to make these aspects a little less scary by bringing definition and form to these thoughts through the act of creating art and discussion.
"The Natural World: community field trips with local artists"- We worked with nature and art in many different ways, from working with traditional vine charcoal for impressions to discussions of each participants' natural process to understand intentions. 
April 2016 - September 2018
LIVE PAINTING
: 
A form of performance art, in which the artist works on a visual art piece in a public performance or demonstration, often at social events like a music concert, arts festival, or wedding reception.
The performance may be a sitting on a more studied fine art composition, hoping to contribute to the environment as progress is made. The work may be more improvisational, pulling inspiration or direction from the event, often to try and render an essence or feeling of the moment.
Along with the work being produced , engaging and connecting the participant with the artistic process should be considered a great opportunity and responsibility for the artist. Sharing the imagination and progress of a practice with the attendee through answers, input, listening and clarification of how it happens or where it happens from, can connect them a process of their own as well.
Responsibilities may include:
-coordinating with the production and/or venue staff for times, power availability, placement, and infrastructure.
-loading in/out and securing lighting, work surfaces, drop cloths, any inventory being sold or displayed, and general decor within the curated environment.
-promotions of the event and subject of the work to be done prior to performance.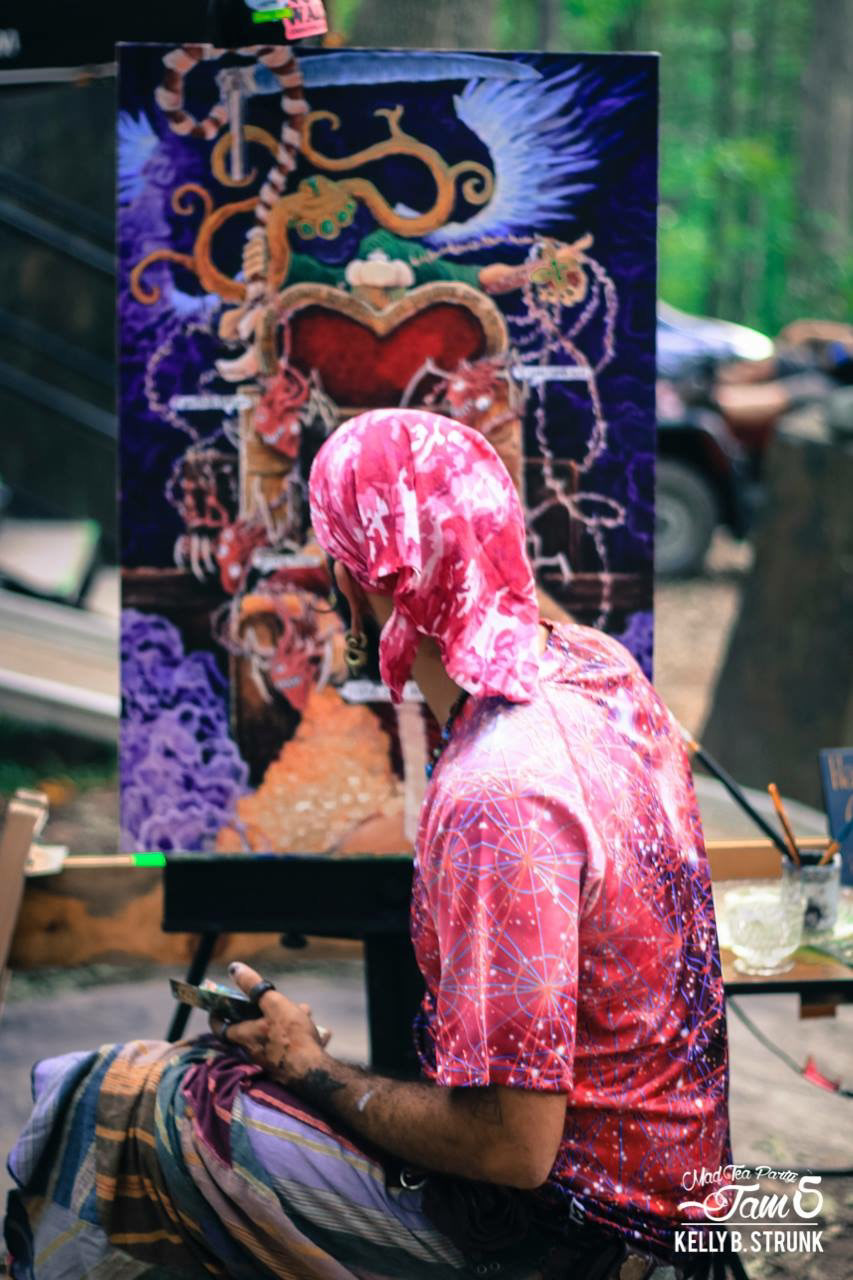 photo by: Kelly B. Strunk- kellybstrunk.com

Operation Opera: Opera Open Mic
- visual art director/vendor coordinator
Facebook.com/bmoreoperationopera - current
8x10
- resident live painter 
the8x10.com -2013-2018
Proper Playground: Celestial Erotica
- visual art director
properplayground.com - 2014-2018
WhyteStone Creative Outcrop
- instructor/ feature artist
Whytestonecreativeoutcrop.com - 2014-2018
Firehouse Arts and Music: Art and Wellness Center
- instructor/ feature artist
Firehouseartsandmusic.wordpress.com - 2015-2018
Catharsis on the Mall
- catharsisonthemall.com-
 live art director: Nov, 2016
Luna Light: Music and Arts Festival
- lunalightfestival.com - 
live painter: Oct, 2016
We Present: Ode to Earth
- Philly, New York- 
live painter: 2016- current

Artscape- artscape.org - 
live painter, Art Monkeys premiere: 2016


LED Baltimore- ledbaltimore.com - 
feature artist: 2016


LED Baltimore: Backspace Gallery- ledbaltimore.com - 
feature artist: 2016

Psymposia- psymposia.com -
instructor and speaker: Oct, 2016

Novus Summit- United Nations- novussummit.org                                          2016


W.S.I.E. Summit- United Nations- thewsie.org                                                 2016


Hallow's Eve- Baltimore Science Center- 
Halloween-Baltimore.com: Oct, 2015

Burning Man- burningman.com -
mural at the man base: Aug, 2015

Bass Tribe: Russ Liquid Test- basstribe.org -
 live art director: Feb, 2015

Appalachian Jamwich- appalachianjamwich.com -
cover artist, Aug: 2015

Transformus- transformus.com -
Goldstar live art director: Jun, 2015

PEX Summerfest- pexsummerfestival.com - 
live art director: 2015-current

Dreamscape- dreamscapefestival.com -
 live art director: 2015-2016

Mad Tea Party Jam- themadteapartyjam.com - 
live painter: 2014-current

F.A.R.M.Fest music and arts- farmmusicandarts.com- 
live painter: 2014-2016

Freeform Arts Festival- freeformarts.com -
curator, live art director: 2013-2016

Mushroom City- mushroomcityartsfestival.org - 
feature artist: Oct, 2014

Papadosio/Proper Playground: New Years-
 live art director: 2013-2014

RAW artist (Baltimore)- RAWartists.org -
feature artist: 2013